Wow! I cannot believe how quickly the first half of the year has passed! What a great half it has been, too! Winter benchmarks are coming at the end of Febuary to asses where the students are at this point in the year, so I can better accommodate their individual needs as the year continues.
You may open the links on the left side of this page to find more information about the new schedule for 3rd-5th ELAR/SS. I have added new links for practice at home.
Please feel free to email me with any questions you may have during the school year!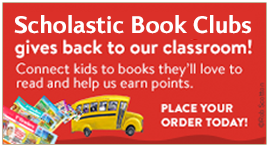 Here is a link to my personal Scholastic page for parents to place orders from the monthly catalogs sent home. Every order is greatly appreciated! We love books! All students have a coupon for a free $5 book this month!!